The #1 Private owned Karaoke in NC
---
"Late and inexpensive fun in star karaoke"

Star Karaoke and Bar

Since We Opened in 2005

.

Open Daily: 5pm – 2am

Address: 2105E NC54 Durham NC27713
A Space with Joy and Music
---
We've seen many people became Crazy about Karaoke!
You can have your own room for you and your friends for some singing fun!
STAR KARAOKE is a Japanese styled JOYSOUND "Karaoke Box"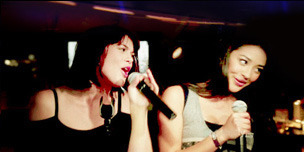 Private Room Karaoke
---
This is a new way to enjoy Karaoke!
Having birthday parties, bachelor's parties, company parties and just having fun
would be the best usage.
Latest song titles in English | J-pop | K-pop | Thai | Vietnamese | Chinese-KTV

News & Information
---
2016.07.12 New Song For July is Updated
2016.06.10 New Song For June is Updated
2016.05.12 New Song For May is Updated
2014.03.30 Raleigh Store-Closings-Going-Out-of-Business
To book a box please call us 919.294.6055
• To book a box, or for more information, please call us after 5pm
STAR KARAOKE is the best place for your Parties!!
---
For more detailed questions/inquiry, call us 919 294 6055